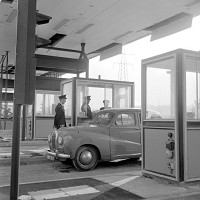 The Dartford Crossing's toll booths are being scrapped this weekend in a bid to ease congestion for drivers at one of Europe's biggest motorway bottlenecks.
Motorists setting their journey planners via the crossing should notice a big difference from Sunday morning. This is when the 27 booths are being scrapped for more modernised payment methods - 51 years after they were first introduced.
From Sunday, motorists will be invited to pay online. The switch also sees the present £2 charge for car drivers rise 25% to £2.50.
This rate will drop to £1.67 if drivers pre-pay via the new Dart Charge service. Motorists can also pay by post or phone.
Heavy and light goods vehicle drivers will also face fee hikes, but the crossing will remain free for everyone outside of the 6am to 10pm chargeable hours.
Motorists should only reap the full rewards of less congestion in and around the crossing next spring as roadworks will continue while booths are being taken away.
Stephen Glaister, direction of the RAC Foundation, said: "The crossing is the motorway bottleneck of Europe and routinely sees traffic volumes way above the maximum design capacity.
"We welcome the changes but they are not coming cheap. Charges are being hiked and car drivers will pay a quarter more for the privilege of faster journeys.
Professor Glaister continued: "At the same time operating costs will be about three times what they were when the booths were there. However the benefits in quicker journeys are predicted to be huge.
"The relief might be short lived though. Officials predict motorway traffic in the south east of England will rise by about 25% in the next decade."
He went on: "Already ministers are considering where a third Lower Thames crossing should go to ease the growing pressure on the existing bridge and tunnel.
"At the very least the extra money raised from higher tolls should go towards building it."
Copyright Press Association 2014