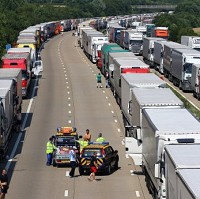 Dover-bound motorists faced a fourth day of queues in the heat as the Government moved to try and end the Calais crossing crisis.
Theresa May is set for talks with her French opposite in Paris after striking French ferry staff caused yet more disruption either side of the English Channel.
The Home Secretary is meeting Bernard Cazeneuve as drivers queue on Kent's M20 for Channel Tunnel access.
This follows Calais port's part-closure which has devastated Channel crossings. The amount of lorry drivers parked up on the motorway has gone into the thousands.
Meanwhile migrants near Calais have tried to board slow-moving lorries bound for Britain.
It all means more misery for motorists heading to Dover, as the temperatures climb above 30C.
Dover's port officials said on Thursday morning that they still don't know when the strike - the second such industrial action taken by ferry staff - will end.
Road Haulage Association officials describe the situation as a "desperate mess" and "absolute mayhem". Richard Burnett, the RHA's chief executive, says people would only believe its true scale if they saw it with their own eyes.
He urged the Government to call in the army to end the industrial action because people's jobs as well as their own safety are at risk.
Mr Burnett said that governments on either side of the English Channel should realise their responsibilities towards every Calais port user and take action.
With temperatures climbing to their highest this year on Wednesday it made uncomfortable motoring for truck and car drivers alike, as heavy jams stretched back in the direction of London.
Kent's council employees and coastguard members gave water and meals to some of the drivers affected.
Temperatures are expected to peak at 25C (77F) on Thursday, according to BBC weather experts.
Copyright Press Association 2015