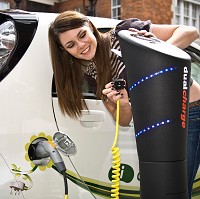 British drivers seem to be giving a resounding thumbs-down to electric cars, with the idea of buying one failing to spark interest in as many as 95%, a survey says.
Many are dissuaded by concerns their batteries would run out, as well as the initial outlay of purchase and costs of day-to-day running.
Just 5% told researchers they would consider buying an electric car, with another 14% saying that, after consideration, they opted for a diesel, petrol or hybrid vehicle as their last purchase.
But 56% revealed they had not even entertained the idea of replacing their car with an electric model.
The assumed high costs are a worry, in spite of the Government's Plug-In Car Grant of £5,000.
Electric vehicles specialist at Cardiff University, Dr Daniel Newman admits feelings are mixed about electric vehicles, even though they have actually been around for decades.
He adds that many motorists fear being stranded at the roadside if the battery charge runs out, and worry over the relatively long recharging times and how much road time these would provide.
Copyright Press Association 2014