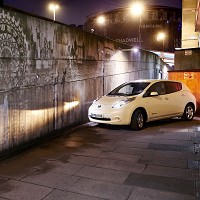 A best-selling electric vehicle is being used to power street art in the form of a mural in central London.
The mural by Reverse Graffiti artist Moose was created in the subway at Station's Approach, Waterloo, by cleaning dirt from the surface using a jet washer, which was powered by the Nissan LEAF.
The resultant artwork, showing various London landmarks, stands 2.5 metres tall and 10 metres wide. The idea is to show how much cleaner the city could be with more use of electric vehicles.
Moose's method leaves a design in negative on the wall, with a lot of the dirt having come from vehicle exhausts.
For what is believed to be a first, the jet washer used was powered by the LEAF by using a portable machine in the form of the LEAF to Home equipment.
With this gear, the car battery electricity is converted to give power for up to two days to a home on one charge.
Moose's latest work started as a hand sketch. Then he created stencils which fit together for the end result.
Buckingham Palace, Battersea Power Station, The London Eye and The Shard are among the landmarks shown in the mural.
Copyright Press Association 2014