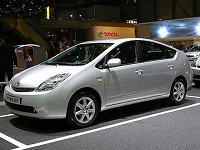 Motorists in London will be able to hire a specially-converted Toyota Prius car from next week as part of an electric car hire scheme.
The Streetcar initiative, which provides cars as part of a pay-as-you-go club, is working with Camden Council in north London and Transport for London to offer the first electric car under the scheme.
The Toyota has an electric-only range of 35 miles and can be hired from Camden's Bloomsbury car park in Holborn.
Streetcar has cars parked in dedicated spaces across London and several other UK cities, available for rent for as little as 30 minutes or as long as six months.
It currently has 55,000 members, but co-founder Brett Akker reckons this number will rise to 250,000 by 2012.
Speaking about the new addition to the fleet, London mayor Boris Johnson said: "Car clubs are a great way to be green and it is even better news that Londoners will be able to use a cleaner car to make their trips.
"I want London to be at the forefront of the electric car revolution and initiatives such as this are an important stepping stone along the way."
Copyright © Press Association 2009