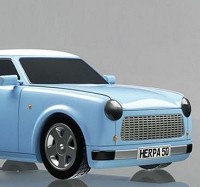 A former Volkswagen designer is behind a 'green' revamp of the old East German, smoke-belching two-stroke Trabant family car.
The company says that an electric-powered version could be on sale by 2012 if the right financial backer is found.
A concept version on display at the Frankfurt Motor Show promises a simple four-seater with the simple shape and minimal accoutrements of old, but with an electric motor.
A lithium-ion battery will charge up in eight hours, have a range of 100 miles and a maximum speed of 80mph. Solar roof panels will power some of the functions.
Sparse and with "no unnecessary gadgetry", it will be "simple, strong, light and practical, virtues that have stood for the Trabant brand for decades."
The original Trabant was made in Zwickau in Germany's Saxony state. The project is being driven by German model-builder Herpa, speciality car-body builder Indikar and Depo Engineering.
The state development organisation Autoland Saxony is also contributing to the project.
Copyright © Press Association 2009