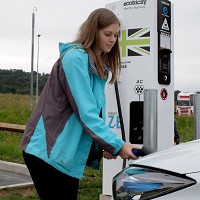 The electric car plug-in network will stretch from the north to the south of mainland Britain before the month is out, its operators are claiming.
It means that motorists setting their journey planners from Land's End to John O'Groats will be able charge-up at the start and finish of their 838.8-mile (1,349.9km), 16-hour trip.
Ecotricity's so-called "Electric Highway" already has a charger fitted in the Cornish village in the south-west of the mainland.
It claims that its charging-point network will also add the most north-easterly point by June 30.
Electric Highway founder Dale Vince says it would be "something special" to power an electric car from these two iconic landmarks. He adds that drivers might have laughed if you'd have told them this was achievable as recently ago as 2010.
Proof that the electric vehicle revolution is here was shown by the sales going up fourfold in 2015's opening five months.
Emission-free travel now extends across 1 million miles every month.
Copyright Press Association 2015