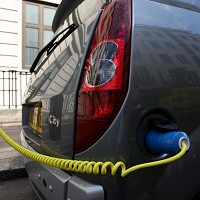 The switch to electric cars will create a "drought" in motoring tax income that could force future governments to hike fuel duty by 50%, new research suggests.
A report commissioned by the RAC Foundation suggests that increasing use of more fuel-efficient cars and electric vehicles could create a £13 billion shortfall in government revenues.
To fill this gap, ministers could be forced to introduce massive fuel duty hikes, according to the report.
Fuel duty currently makes up 1.7% of the UK's gross domestic product (GDP).
However, this figure is expected to drop to 1.1% by 2029.
Vehicle Excise Duty (VED) is also likely to fall from 0.4% of GDP to 0.1% during the same period.
RAC Foundation director Professor Stephen Glaister said: "If the Chancellor was faced with a £13 billion shortfall in motoring tax revenue today, he would need to push the rate of fuel duty up from 58p per litre to 87p per litre to fill the financial black hole.
"Clearly there is no guarantee that future rises in duty rates will be limited to inflation, as is current policy."
Copyright Press Association 2012