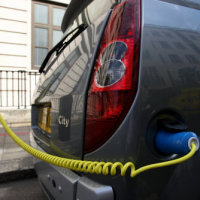 Children may soon be able to have special driving lessons from the age of five thanks to a newly designed state-of-the-art electric training vehicle.
The purpose-built car, which will cost around £5,000 and have a maximum 10mph speed, will be offered for children up to the age of 10.
The Electric Trainer 1 (ET1), made by Young Driver Motor Cars and powered with twin electric motors, should enable children to get an early insight into the demands of the road and electric cars.
Only last year Go Ultra Low found that four-fifths of 14-year-olds plan to make in about 2025.
Driving specialists spent nine months designing the motor, which will originally be taken on young motorist training days across the country on private land.
Each model will include safety systems which will automatically disable the vehicle if it predicts a crash is coming.
In addition, accompanying adults will have remote controls to perform a similar operation where needed.
The car includes independent suspension and disc brakes to help children get as close as they can to a real-life motoring experience.
Copyright Press Association 2016. Motoring News articles do not reflect the RAC's views unless clearly stated.