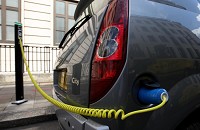 Switching to electric cars may not help save money on oil or slash carbon dioxide emissions, a report says.
Electric cars can prove to be uneconomical for motorists when compared with hybrid vehicles if the electricity is generated from coal instead of wind or sunlight, the Environmental Transport Association (ETA) said.
Although there were significant "green" benefits to be had from a switch to electric vehicles, any environmental benefit is only really possible by changing the way electricity is generated and taxed as well as by regulating CO2 emissions.
The report said that low running costs of electric vehicles would mean extra demand for car transport and additional taxation of electricity - leading to on-board metering of electricity.
It also said that it is not likely that electric car sales would be more than 25% of new sales by 2050.
Andrew Davis, ETA director, said: "While the report is not intended to dampen enthusiasm for electric vehicles, their introduction should not be viewed as a panacea. Significant changes to the way we produce and tax power are needed before we will reap any benefits."
Copyright © Press Association 2009