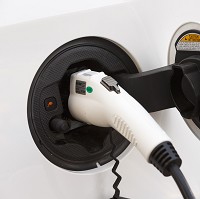 Downing Street is about to get some extra features - charging points for electric cars.
It's all part of moves to make the fleet of cars used by the Government greener, and the first eco-friendly cars could be ordered as soon as the autumn.
It might even lead to the Prime Minister being driven in an electric vehicle, though there are some practical concerns to think about first. David Cameron's car is ultra-secure and specially modified, so those concerns would need working out before he could join the scheme.
The Cabinet Office minister says the use of cars by each department will be re-assessed and where it will work electric cars will be bought.
Oliver Letwin thinks everyone in the Government will want to get on board with the low-emission plan, which will eventually see the cars and other electric vehicles commonly used by officials.
He adds he wants to use the big purchasing-power of Government to encourage the public to start using electric cars.
There is a £5 million project to get things ready for the hoped-for influx of electric cars, which of course means getting "proper" places to charge them.
Mr Letwin said there had to be "some investigation" but there is a team in place to install them "up and down" the street where the PM lives.
Copyright © Press Association 2014
Copyright Press Association 2014