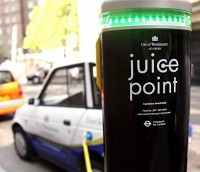 Tesco has pledged to provide recharging points for electric cars at its stores throughout the North East of England.
It has teamed up with organisations including British Gas, CE Electric UK and Capital Shopping Centres to support an initiative backed by regional development agency One North East.
The retail consortium will provide top charging locations along with promotional work as the region begins to move towards a planned low-carbon economy.
The agency intends to install 750 charging points over the next two years to give drivers the confidence that they can safely invest in the technology.
Said spokesman Chris Pywell: "Electric vehicles are not a futuristic vision, they are on our roads now. It's a reality that we must take advantage of, not only to lower our carbon emission levels, but to exploit the economic potential it offers the region.
"We want the North East to be showing the rest of the world how best to develop a comprehensive infrastructure to support the use of electric vehicles."
Copyright © Press Association 2009