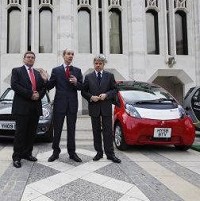 Hundreds of electric cars are to be made available for testing by members of the public and businesses as part of a drive to promote low-carbon vehicles.
A £25-million Government grant will enable projects in eight separate locations: London, Newcastle-upon-Tyne, Glasgow, Oxford, south-east England, Hillingdon, Coventry, Birmingham and the West Midlands over the next few months.
Companies involved in the schemes, which are organised by the Technology Strategy Board (TSB), include Toyota, Mini and Ford.
Says a TSB spokesman: "This is the biggest attempt to date to get electric cars onto UK roads and meet the 80% cut in carbon emissions by 2050."
Among the projects is a scheme by Energy Efficient Motorsport (EEMS), which will see 21 electric sports cars made available for commuting and leisure as well on sports tracks.
Peugeot will provide 40 battery electric cars in Glasgow for a year, plus 40 charging points located around the city.
London will be the location for a three-year trial beginning mid-next year of 20 Toyota plug-in hybrid vehicles using lithium-ion batteries.
And in Newcastle, £10.7 million will fund 35 vehicles including 15 Nissan cars and others from the Smith Electric Vehicles company.
Copyright © Press Association 2009