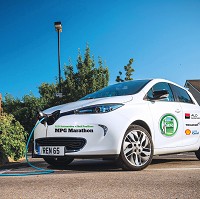 Electric cars will have a highly-visible presence in this autumn's race to find the vehicle with the greatest fuel economy.
The MPG Marathon takes place near Cirencester in the Cotswolds from October 8-9.
A Nissan Leaf and a Renault Zoe are among the 100% electric vehicles which are competing in the latest edition of the race for the very first time.
The key challenge for their drivers will be to find recharging points along the 360-mile (579km) route.
Contestants will be assessed on the amount of power they use during the event.
Event organisers have already set the electric vehicles' rates at 13p for each kilowatt hour, as they cannot gauge their mpg in a conventional sense.
Want to register for the race? To enter, click on http://www.thempgmarathon.co.uk/registration/.
Copyright Press Association 2014