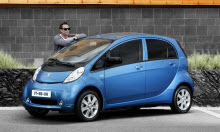 I have just been to Paris to drive an electric Peugeot that, before the end of this year, could be parked on your driveway.
The Peugeot Ion will the first proper electric car available to the general public, though the rather odd G-Wiz has been buzzing around some cities for a few years.
Among the many interesting facts about the Peugeot is that if you want one you'll have lease it, not buy it. At £498 a month over five years that's adds up to almost £24,000. That may sound expensive, but electric cars are currently pricey machines, and the cost does give you a full warranty and servicing over that period.
Peugeot reckons you could save as much as £1,500 a year in fuel costs, as a recharge from your house mains electricity supply will cost just a couple of pounds a time. Mind you, that will get you only 45 to 90 miles before you've used up all the available energy.
Don't fancy leasing? Mitsubishi will shortly be selling its iMiEV – the same car as the Peugeot Ion – and Nissan the electric Leaf, both for around £25,000. Whatever you choose you'll still need to be very committed to the zero CO2 electric car idea. A similar sized petrol or diesel Peugeot 107 can be leased for well under £200 per month.