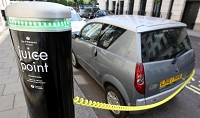 An £11 million scheme to make it easier for drivers to charge electric vehicles at a number of UK cities has been announced by the Energy Technologies Institute (ETI).
The joined-cities plan will help the roll-out of a single national network allowing plug-in vehicles to be easily used and charged anywhere, including the home. The ETI scheme will begin its work in Birmingham, Coventry, Glasgow, London, Middlesbrough, Milton Keynes, Newcastle, Oxford and Sunderland.
"Through our plan we will help to enhance the versatility and ease of recharging," said ETI chief executive David Clarke, announcing the plans at the Low Carbon Vehicle Event 2009, held at Millbrook Proving Ground in Bedfordshire.
London Mayor Boris Johnson said: "I want to make it much easier to go electric which is why in London we are planning to roll out 25,000 charging points."
The first bus to be fuelled by clean, biomethane gas is on show at Millbrook. It has been adapted to run on biomethane for 60-80% of the time and lower harmful emissions by around a half.
Copyright © Press Association 2009