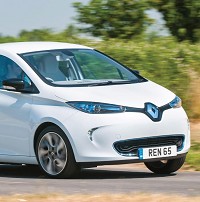 The Renault Zoe claimed a pair of prestigious eco awards to add to its already well-stocked trophy cabinet, on the same day official figures revealed a 25% increase in electric car sales.
In a ceremony at the Houses of Parliament on Monday the electric supermini was named the overall Green Apple Awards winner by members of the Midland Group of Motoring Writers in conjunction with The Green Organisation.
The Renault Zoe also won the prize for small family cars at the event, winning praise from one of the judges as "the most mainstream electric car yet" and which "could be the car that makes people consider electric cars as a viable option".
The comment could not have been timely, as figures from the government showed sales figures for electric vehicles reached a new high in the last quarter. A total of 1,149 sales were made as part of the £5,000 grant scheme to get more electric motors on the road, signalling the largest sales since records began in January 2011.
RAC spokesman Simon Williams said: "News that UK electric car sales have jumped by 25% in third quarter of this year to a record high is significant. The Government's electric grant scheme has not sparked take-up in electric vehicles as much as it had been hoped.
"Let's hope this trend continues and even accelerates in the coming months to the point where these vehicle become far more commonplace on the nation's roads."
Drivers on the lookout for a more efficient vehicle will be interested to note the Midland Group judge's comment that Renault's Zoe "could be the car that starts making our city centres and shopping centre car parks zero emissions and environmentally friendly".
Just five months since its arrival in UK showrooms, the best-selling ZE model has already been named top electric car at the Scottish Car of the Year awards; the most environmentally friendly fleet car at the BusinessCar 'Techies' and winner of the technology award at the Fleet World Honours.
Copyright Press Association 2013