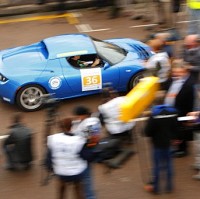 Car manufacturers are being offered the chance to share an electric car maker's technological know-how in a bid to boost the market for battery-driven vehicles.
US-based Tesla Motors says it is willing to give other manufacturers access to its patented technology as long as they agree to avoid going to court over intellectual property issues.
Elon Musk, Tesla's chief executive officer, said it is hoped the move will help pave the way for greater collaboration between the firm and other car makers.
It is hoped this will encourage other manufacturers to put more focus on developing electric vehicles. And if they're using Tesla's technology and sharing the cost of their charging stations that could increase their number and encourage more motorists to make the switch.
Tesla makes electric systems for Toyota and Daimler and also manufactures its own vehicle, the Model S sedan.
The firm, which introduced the Roadster electric sports car seven years ago, is also developing two other vehicles with the Model X set to be released in 2015.
Copyright Press Association 2014