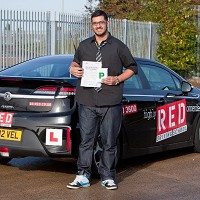 Learning to drive is an important milestone for any teenager.
But 18-year-old Navdeep Singh scored an extra special achievement when he became the first person in the UK to pass his test in an electric car.
Navdeep, from Hull, was taught by an instructor from RED Driving School and took his test in a Vauxhall Ampera.
He said afterwards: "I am really happy to have passed my driving test and it's exciting that I am the first to have taken it in an electric car."
The Ampera can run for more than 40 miles on electric power and uses an automatic gearbox, like all vehicles that can run exclusively on electric power.
People who take their driving test in these vehicles are not qualified to drive a car with a manual gearbox.
However, RED chief executive Ian McIntosh said he believed automatic cars were becoming more common, and said his instructors plan to offer more lessons in electric cars in the future.
Mr McIntosh said: "At RED Driving School we are proud that our pupil, Navdeep is the first in the UK to pass a driving test in an electric car.
"We are offering electric car driving lessons as part of an ongoing innovation process of responding to the changing driving industry, establishing what is possible for the future and assessing demand for different car types."
Copyright Press Association 2012