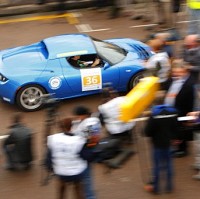 Bristol has been named as a leftfield motor manufacturer's new south west England base.
Tesla is now advertising for employees for its forthcoming service centre and permanent showroom.
Motorists looking to join the battery-powered car revolution will be offered test drives at the Bristol base. The premium all-electric vehicles firm has just opened its Cribbs Causeway "pop-up" showroom next to the M5 in preparation for its long-term plans.
A "Supercharger" in the adjacent car park of John Lewis department store will also be on-hand to completely recharge Tesla's Model S purely-electric vehicles in record time.
This equates to 75 minutes from flat (allowing around 265 miles' motoring) or a half-charge - which facilitates 130 miles' driving - in 20 minutes.
It means that 85kW Model S owners can motor across nearly the whole of Britain employing the company's Supercharger network.
Business leader Elon Musk has promised that Tesla drivers can use such chargers free of charge forever.
Copyright Press Association 2014