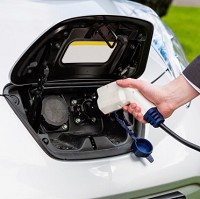 An electric car club is being launched by French car giant Renault.
The first of its kind in the UK, the E-Car Club is aimed at helping businesses cut the cost of their fleets as well as tackling air pollution.
A fleet of five electric Renaults are already part of the club, and more vehicles are on order.
On a pay-per-use basis, members get to drive a Renault ZOE, the world's first affordable, purpose-built electric supermini. According to the Committee on Climate Change, the 'car club' model for business users could be key to challenging opinion on electric vehicles (EVs). The UK could become the electric car capital of Europe if Government plans are realised.
Renault UK's Ben Fletcher said the E-Car Club would help spread the word on the benefits of going electric. "Once you've driven an electric vehicle, very few people want to go back because it's very responsive, quiet, relaxing and well suited to city driving," he argued.
"On top of that there are real gains to be made in terms of emissions, especially with particulates and smog. By having electric vehicles in the city you stop that kind of pollution at the tail pipe and so have a direct positive impact on air quality and public health."
Campaigners are currently aiming to increase awareness of EVs among the wider public, androute planners of the future will include charging points in their maps and guidance for drivers.
Copyright Press Association 2013