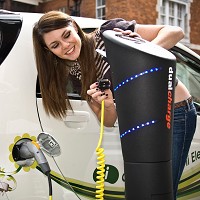 Hundreds of new electric car chargepoints are to be installed around the UK with Government funding for dozens of local councils, NHS trusts and train operators to provide the points.
The new points will mean the ability to recharge at stations, in car parks at hospitals, and on streets, said Transport Minister Norman Baker who announced winning bids for funding with Business Minister Michael Fallon.
Electric vehicles were becoming ever more attractive to consumers and businesses as new models were coming on to the market monthly from major manufacturers with 2-3p per mile running costs, said Mr Baker.
An extra £37 million has already been announced in February from the Government to offset infrastructure installation costs and the winning bids for the first round of this funding have now been announced.
Train operators, councils, and the wider public sector have also been invited to bid for the second round.
Copyright Press Association 2013