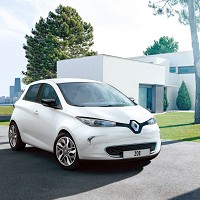 The new Renault Zoe is promising to take the electric car to a whole new level in the eyes of consumers.
It is the first Renault to be built from top to bottom as an electric vehicle.
The Zoe's 87bhp motor can provide 162.lb of torque to help users get about town.
It has a theoretical reach of 130 miles on full charge, although drivers should expect between 90 and 100 realistically.
Its "supermini" size will make it a dab hand at parking and moving through traffic, and its price - starting at £13,650 on the road - is eye-catching in itself.
Whether you are driving a hi-tech ecological innovator or a gas-guzzling old banger, the precautions and requirements you need in terms of insurance remain the same.
Kit on the Zoe includes three trim levels, an Expression joined by two higher models with identical styling and equipment approaches.
The Zoe Dynamique Zen has a light colour palette, with a built-in ioniser, air toxicity sensor, Teflon-coated seats and an in-built air freshener. The Dynamique Intens features a rear parking camera as well as a darker interior.
Copyright Press Association 2012