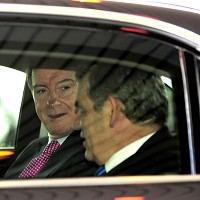 Hundreds of new jobs will be created after Japanese car giant Nissan announced a £200 million investment to build batteries for electric cars.
The cash injection is good news for the British motor industry, which has been battered by the ongoing recession.
Prime Minister Gordon Brown was joined by business secretary Lord Mandelson at the company's Sunderland factory.
The Prime Minister said: "Nissan's investment in a new battery plant and its hope to start producing electric vehicles here in Sunderland is great news for the local economy, creating up to 350 direct jobs and creating and safeguarding hundreds more in the associated supply chain.
"This investment is also hugely significant as we embark on Building Britain's Future, our plan for recovery and beyond powered by low carbon, high technology industries, products and services. Sunderland could now be a strong contender to produce electric vehicles for Nissan in Europe, and we will continue to work with Nissan to ensure this happens."
The Government said it would support Nissan's investment by offering grants and loan guarantees.
Copyright © Press Association 2009