On June 8 the public goes to the polls to decide which party/parties should lead the UK through the challenging Brexit negotiations.
Following Theresa May's announcement of a snap election, each party has now set out their manifestos, but what do they propose for drivers?
We have picked through each of them with a fine-toothed comb to find out what the separate parties are promising motorists.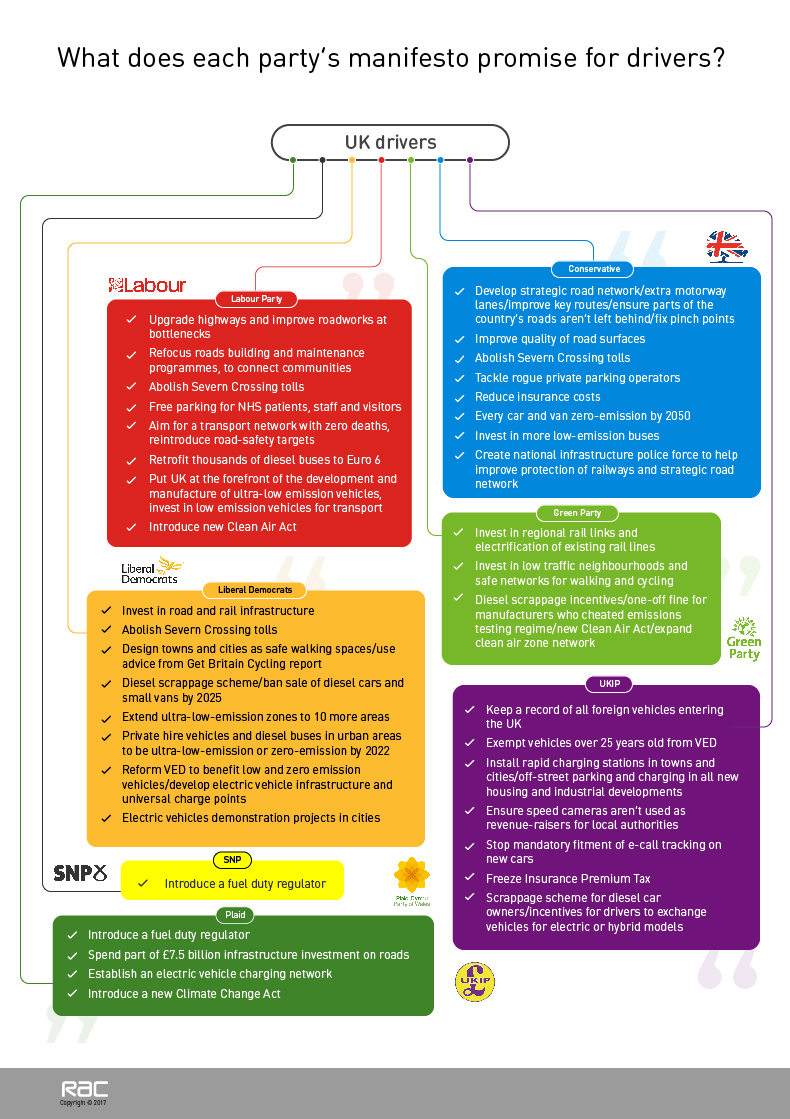 The RAC published its own 2017 Motoring Manifesto which it passed to major party leaders, urging them to consider the key issues that matter most to road users.
Here's how each party has responded to the main issues we raised.
The environment
The current government recently issued its proposals for meeting new air quality standards, which were met with a mixed reception.
The Conservatives pledge that every car and van will be zero-emission by 2050 – with a £600 million investment over the next three years helping to achieve it. As well as committing to invest in low-carbon buses, the manifesto also speaks about increased use of smart grids.
Labour meanwhile has pledged to put the UK at the "forefront" of ultra-low emission vehicles through investment. Jeremy Corbyn's party has its own ideas for a new Clean Air Act, and also wants to retrofit thousands of diesel buses to meet Euro 6 standards.
For the Liberal Democrats, a diesel scrappage scheme has become a key policy pledge, together with banning the sale of new diesel vehicles as soon as 2025. Tim Farron's team is also keen to roll out more ultra-low emission zones, reduce tax payable on electric and low-emission vehicles and improve charging infrastructure.
Elsewhere, the Green Party will incentivise getting diesel vehicles off the roads and wants a one-off fine for manufacturers who have cheated emissions tests. UKIP favours a scrappage scheme which would offer diesel drivers £2,000 – while Plaid Cymru would introduce a new Climate Change Act and charging network.
Infrastructure
The Conservatives say they'll continue to invest in the road network to fix pinch points, while also providing extra motorway lanes and paying attention to parts of the country which have been 'left behind'. Locally, they're focussed on improving the quality of road surfaces and reducing noise.
Labour too would commit to upgrades of highways – eliminating bottlenecks and connecting communities.
"Significant investment" in road and rail infrastructure has been pledged by the Liberal Democrats; Plaid promises a £7.5 billion investment programme for projects in Wales, which would include roads; and UKIP opposes the proposed Thames Crossing in Thurrock.
The Greens want to scrap HS2 – instead electrifying existing rail lines – and also propose safe networks of walking and cycling routes for local areas.
Fuel duty, prices, tax, tolls and insurance
The current incumbents of No.10 have frozen fuel duty until next April, and like almost all the other major parties made no mention of road tax in their manifesto.
The Tories are the only party to make a commitment to reducing insurance premiums by cracking down on fraudulent whiplash claims.
Other related pledges come from the SNP and Plaid, who both want a fuel duty regulator, and UKIP who would both freeze Insurance Premium Tax (IPT) – which has doubled in under two years – and would exempt 25-year-old vehicles from Vehicle Excise Duty (VED).
Labour, the Liberal Democrats and the Conservatives have all pledged to scrap tolls on the Severn Crossing bridges.
Road safety
While the Conservatives made no mention of road safety in their proposals for parliament, Labour promised to "reset the UK's road safety vision and ambitiously strive for a transport network with zero deaths, reintroducing road safety targets and setting out bold measures that will continuously improve safety standards."
UKIP says it wouldn't allow speed cameras to be used as revenue-raisers for councils, and also wants to scrap the mandatory fitting of e-call tracking systems in new cars.
Meanwhile the Liberal Democrats want to design cities as safe and desirable walking spaces and also implement objectives set in the Get Britain Cycling report.
Parking and policing
Among proposals for parking, Mrs May's party is keen to tackle rogue private parking operators – while Labour will offer free parking across NHS England sites for staff, patients and visitors, funded by increasing the tax on private medical insurance premiums.
Paul Nuttall's UKIP want to encourage off-street parking and charging provision in all new housing and industrial developments.
From an enforcement point of view, the Tories promise to create a national infrastructure police force to better protect roads, railways and nuclear sites. UKIP want to keep tabs on all foreign vehicles entering the UK by introducing windscreen mounted IDs.
READ MORE: The RAC's full motoring manifesto
Copyright Press Association 2017. Motoring News articles do not reflect the RAC's views unless clearly stated.
Note 1: These pledges have been lifted directly from each party manifesto.
Note 2: The RAC has only listed information here from parties that won a seat in Westminster in the 2015 General Election, with links to Northern Ireland parties below