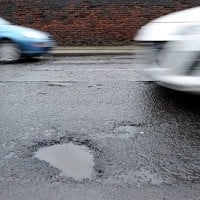 Road users claim potholes need to be the incoming Government's main priority after next month's general election.
Seven out of 10 people questioned in the Institute of Advanced Motorists (IAM) poll of 2,156 adults said the dangerous eyesores need precedence over all other road-related issues.
Overall road maintenance came second on the wishlist, with over 64% of respondents saying this needs drastic attention.
The next greatest worry is road safety. A majority of people (52%) claim the next Government should take more action to reduce the amount of road injuries and accidents across all age groups.
£12bn repair backlog
RAC Chief Engineer David Bizley says: "Research from the latest RAC Report on Motoring supports the IAM findings.
"It is clear that motorists are growing increasingly concerned about the state of the roads, with 85% of those surveyed in 2014 telling us that they would like to see a higher proportion of the Government's transport investment spent on improving the condition of local roads.
"We are committed to helping motorists do something about getting repairs carried out. With the RAC's Report a Pothole app, reporting a pothole could not be easier as you simply enter the location or use the app's mapping tool and describe the issue."
To report a pothole, motorists can visit the RAC website or download the free RAC Report Pothole mobile app for their iPhone or Android smartphone.
The IAM poll also echoes a recent call by the Asphalt Industry Alliance (AIA), urging the UK's new leaders to prioritise investing in a plan of action over the long term.
The AIA said the country's repair backlog now exceeds £12 billion - adding that cash used to fill somewhere in the region of 2.7 million potholes in the last year has effectively been "wasted".
Costly
Road accidents meanwhile are also proving expensive, both in terms of cost as well as an increasing number of casualties, setting the UK's economy back £15.6 billion each year.
The amount of people badly injured or killed rose 4% year-on-year to September last year, the Department for Transport reported.
The IAM's Neil Greig said the latest poll should leave no new Government "complacent", adding that reductions in road safety and visible police funding are partly to blame.
Further gripes
Making up the top five greatest gripes among motorists are the effectiveness of the current driving test (41%) and unduly lenient punishments for the worst motoring criminals (39%).
Many respondents want the new administration to modernise the test to make it more realistic for learners about to independently take to the road.
The full IAM report is available online.
Copyright Press Association 2015