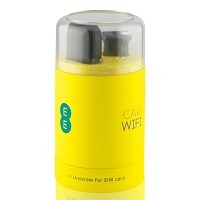 Motorists will soon be able to turn their car into a personal wi-fi hotspot thanks to a brand new device from EE.
The mobile provider has announced the launch of the Buzzard, the first in-car 4G wi-fi device available in the UK.
The unit plugs into a car's power socket and is designed to slot into the vehicle's cup holder.
EE is quick to stress that the device is aimed at passengers, not drivers, and called on motorists to use it responsibly - adding it should prove a real hit for families with children.
The firm said it wanted to improve 4G coverage on roads and railways, citing this as a key factor in releasing the Buzzard.
EE also confirmed plans to launch two other new 4G mobile units, the Kite and the Osprey. These are designed for professionals and more casual users respectively and will offer data plans from £10 for 1GB of data.
The Buzzard will be available from May 28 on data plans from £10 per month.
Copyright Press Association 2014