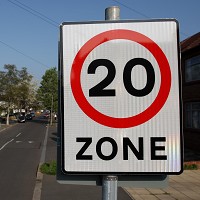 New 20mph speed limits will be introduced in residential areas throughout Edinburgh after a successful pilot in the Marchmont, Grange and Prestonfield areas.
The Scottish capital's transport and environment committee gave the go-ahead for 20mph restrictions in all residential, main shopping and city centre streets, as well as streets with high levels of pedestrian and/or cyclist activity.
Grange/Prestonfield community council chair John Palmer made the committee aware that while locals were largely encouraged by the pilot, they were disappointed it did not cover more streets.
He revealed the community council was left frustrated by Lothian Buses' successful objection against some roads being included, after it argued passengers would face delays.
Mr Palmer has warned enforcement is key to making the change to 20mph a success. In the pilot, drivers caught speeding were sent warning letters.
"That did have an impact, but we were concerned the police did not follow it up by fining people," he said.
"Hopefully Police Scotland will think about that and the council will work with them on the issue."
Tory group transport spokeswoman Joanna Mowat has called for guidelines on which streets are classed as residential, which transport convener Councillor Lesley Hinds has promised to deliver.
Copyright Press Association 2013