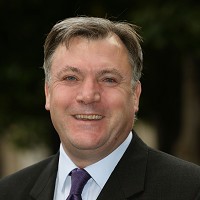 Ed Balls has been fined after admitting failing to stop following a minor road crash.
The Labour MP was ordered by Leeds magistrates to pay more than £1,000 in fines and costs over the incident, which happened in his constituency of Morley and Outwood, in West Yorkshire.
In April, Mr Balls touched the bumper of another vehicle as he was leaving a car park by the Labour Unity Club in Morley in his Ford Mondeo.
A district judge on Tuesday described the collision at the "lower end of scale of seriousness" and said he would have five points put on his licence - but rejected the idea of a total driving ban.
The shadow chancellor did not attend the hearing at Leeds Magistates' Court, where District Judge Roy Anderson read a letter from his solicitors admitting failing to stop and failing to report an accident.
The judge said the MP's account was he did not realise he had caused any damage to the parked Peugeot 308.
Mr Balls, who already had three points on his licence, was told to pay a £900 fine, a £90 Government surcharge and prosecution costs of £80.
Copyright Press Association 2014