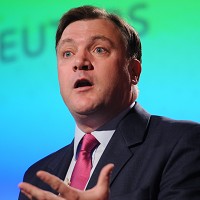 Shadow Chancellor Ed Balls was caught breaching the rules of the road again late last year, this time running a red light as he drove home through London after work.
The Labour MP was spotted by a traffic camera as he headed along the Embankment after a late night sitting in parliament.
He was also caught driving six miles an hour above the 50mph limit on a motorway near his constituency home in West Yorkshire earlier this year.
At the time he joked that he had been going '"too far, too fast'" - a favourite attack line against the coalition's austerity measures. Mr Balls chose to pay a fine and attended a speed awareness course rather than accept penalty points for the offence, which can sometimes lead to highercar insurance premiums in the future.
After his traffic light misdemeanour emerged in The Sun, a spokesman for the MP said: "This happened in December last year as Ed was driving home. He passed through the light just after it turned red and he was photographed on a traffic camera.
"At the time the Blackfriars underpass ahead of the traffic light was closed and all traffic passing through the light was being diverted up a slip-road."
Copyright Press Association 2013