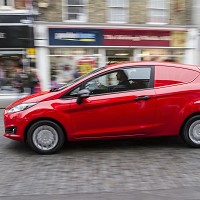 The new Fiesta van is a stylish mobile workshop, ideal for large and small businesses, according to one of the bosses at Ford.
The nimble van will deliver unparalleled fuel efficiency and segment-first technologies when it hits the UK in 2013.
Drivers of the Ford Fiesta van will enjoy 76.4mpg or better and sub-100g/km CO2 emissions courtesy of its economical diesel engines. The Fiesta ECOnetic van features improved fuel-saving technologies to offer class-leading 87g/km and 85.6mpg.
"The new Fiesta van is a stylish mobile workshop for light duty tools and equipment that makes great business sense," said Mark Easton, Ford Britain light commercial vehicle product manager.
"Both local tradesmen and urban delivery fleets will appreciate its sharp, professional looks, while relying on its versatility, dependability and exceptionally low running costs."
The new Fiesta Van offers firms an adaptable van through its practical 1.0 cubic metre load compartment, while maintaining its typical Fiesta driver appeal. This space features a secure steel bulkhead and four cargo tie-down hooks, along with a durable rubber floor mat and sidewall trim.
There will be room for bulkier items thanks to the van's load length of 1.3 metres and gross payload which ranges from 485-508kg.
Whether buying an old vehicle or a new one, it is essential to find the right level of car insurance at the right price.
Copyright Press Association 2012