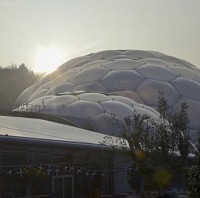 Drivers heading for Cornwall's Eden Project in an electric car will now be able to re-charge when they get there.
The popular West Country tourist attraction has installed its first car charge rapid plug-in point, which will charge-up vehicles in just half an hour.
Transport Minister Andrew Jones was at the St Austell venue on Thursday to officially open the chargepoint. A further 15 electric vehicle-powering points are to be fitted across the county this summer.
The £765,000 Department for Transport (DfT) rapid charging infrastructure in Cornwall and Devon will make sure that tourists and residents can easily access chargepoints and quickly power-up their vehicles.
In the past year or so the electric car revolution has seen many big names announcing plans for new ranges of electric vehicles, including Ford , Nissan and BMW.
The Nissan Leaf and Mitsubishi Outlander are the two current bestselling eco-cars in Britain . Stephen Glaister, RAC Foundation director, said: "After a slower start than ministers hoped for, sales of the greenest cars are accelerating fast. We have always argued that sales of ultra-low carbon vehicles will really take off when they are priced as attractively as similar petrol and diesel models."
On Thursday Mr Jones pointed to plug-in cars not only being better for Britain's environment, but also cheaper to operate.
The minister said a £500 million Government investment in low-emission cars will be rolled out between now and 2020.
Mr Jones said the start of the West Country chargepoint network carries on the Conservatives' commitment to making journeys across the region easier.
He also visited Truro East's new £9.6 million park-and-ride facility, which is aimed at lowering the amount of vehicles on the city's roads.
Mr Jones's two-day South West tour also took in the £12.3 million new stretch of Cornwall's A391, which is designed to ease congestion at the traditional St Austell-A30 bottleneck.
He opened an eco-bridge over the A391 for cyclists and walkers to gain access to the Clay Trails more safely. Mr Jones then visited work done on the A30 Temple and Higher Carblake.
Copyright Press Association 2015