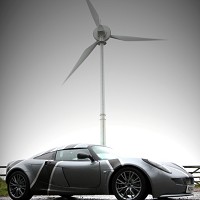 A high-spec electric sports car has been designed and launched by a green energy company in Gloucestershire, in preparation for an attempt on the British electric car land-speed record.
The 'Nemesis' will begin test runs at Bruntingthorpe Airfield and Proving Ground in Leicestershire later this week in a bid to beat the current 137mph record, which was set by the grandson of Sir Malcolm Campbell.
Thought to be the first electric supercar built entirely in the UK, the 'Nemesis' is the conception of Dale Vince, founder of the Stroud-based green electricity company Ecotricity, and will have racing car driver Nick Ponting behind the wheel.
Ponting said: "I've been told the only way to describe the acceleration is like a jet taking off on a runway, so I guess I'll find out this week."
A collection of leading British motorsport engineers combined to put the 'Nemesis' together in less than two years at a site in Norfolk.
The electric supercar will have 100% torque from a standing start and reached 0-100mph in 8.5 seconds during initial tests last year, reportedly hitting speeds just shy of the current UK land-speed record before aerodynamic issues forced engineers into a rethink.
Copyright Press Association 2012