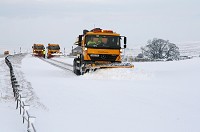 Authorities are deploying a new fleet of salt spreaders which will test roads across the East Midlands before the onset of winter.
The Highways Agency has sent out about 43 vehicles loaded with salt to test motorways and major A-roads in Derbyshire, Nottinghamshire, Leicestershire, Lincolnshire, Rutland and Northamptonshire.
The vehicles, which are to be fitted with snowploughs, will spread salt if weather forecast requires them to do so.
At present however, the salt spreaders will follow their routes to familiarise the drivers, test the vehicles and check equipment on board is in working order.
Jane Wilkins, winter service manager for the Highways Agency, East Midlands, said that the winter fleet has been on stand by since October 1 to be prepared for the "risk of severe weather".
Communications equipment will also be checked to ensure that drivers receive accurate directions about weather forecasts, and can be directly contacted if required to change or re-salt a route in case the weather gets worse.
Ms Wilkins added: "This full-scale winter exercise will help us test all the communications procedures and equipment to ensure that we are ready for when freezing conditions kick in.
"This exercise is part of our commitment to doing everything that can be done to keep major roads safe and free of ice and snow."
Copyright © Press Association 2009