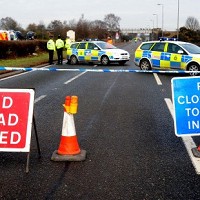 Motorists driving in England's East Midlands face greater risk of a serious road accident than anywhere else in the UK, according to new research.
The Road Safety Foundation's research also supports previous studies which claim countryside routes are the most dangerous.
The charity found there are more fatalities on rural roads (60%) than the rest of the UK's highway network put together. This is despite the fact that they account for just 5% of UK motorists' journeys.
In fact, most serious car accidents happen on just 10% of the country's roads, the report showed.
Interestingly it is the West Midlands, the report suggests, which houses the safest roads. Behind the East Midlands, Welsh roads are the second most dangerous with Yorkshire and Humber and Scotland routes joint third.
Accident rates on motorways have plummeted by a fifth during the last two years, now making them the safest roads.
Motorcyclists account for over a fifth (21%) of fatal and serious accidents even though they represent just 1% of the road traffic.
The Foundation's chairman, Lord Whitty, called for a '3-star safety rating' as the bottom line on the UK's major roads.
Copyright Press Association 2014