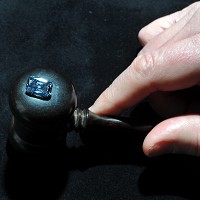 A registration plate auction is set to raise a small fortune for the DVLA.
Drivers will get the chance to add an extra personal touch to their motors on Wednesday, September 24 when 1,500 personalised registrations are auctioned off.
The exclusive sale will take place at Twickenham stadium with buyers getting the chance to take a tour around the home of English rugby.
Rugby may be the traditional "gentleman's game" but personalised registration hunting certainly isn't. The ladies have been putting in a particularly good showing recently, with CO11 EEN selling for a ground breaking £38,850 in November 2013, setting a new record in the process.
The favourite female names this year are CA12 RLA, CH10 LOE, and RE63 KAH, which hold reserves of £900 apiece.
Jody Davies, DVLA Personalised Registrations' Events Manager, said: "We were overjoyed at the interest surrounding CO11 EEN and, with the way events are shaping up, next week's sale at Twickenham looks equally as exciting."
The men aren't being left out though with ADR 214N, GR14 HAM and ST11 EVE available with reserves of £400, £1,000 and £900 respectively.
So far, there have been three auctions staged by the DVLA in 2014 to celebrate the Agency's 25th Anniversary of selling personalised registrations.
The sales have so far raised a cool £10.4 million and the buyers' engines are revving for more.
Copyright Press Association 2014