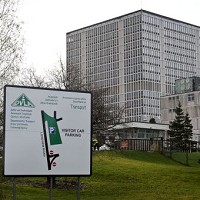 Motorists face longer waits to have their driving licence queries processed due to a DVLA worker strike, agency bosses are warning.
Hundreds of DVLA employees have started three-day industrial action on Friday over a pay row. The dispute relates to reductions to workers' extra Saturday pay.
New staff will not get the traditional Saturday pay top-up for anti-social hours, while people who were taken on before 2014 will get this allowance halved, according to unions.
Around 650 Public and Commercial Services union (PCS) members walked out on Friday at the Swansea contact centre in South Wales.
The strike comes in a year of great change for the DVLA, with paper driving licences being scrapped in June and motorists' details being digitised.
The DVLA warned that the industrial action could result in longer waiting periods for drivers as well as a decreased service.
Keith Johnston, industrial officer for the PCS, calls the dispute "vitally important" for all agency workers.
He believes that if their bosses can reduce contact centre wages, this will result in them looking to worsen conditions and terms for staff elsewhere in the agency.
Mr Johnston says that civil service workers elsewhere receive extra weekend supplements.
He believes it is totally "unacceptable" that the agency thinks it can "exploit" employees in South Wales, because the area has a low-wage workforce. Mr Johnston adds that DVLA staff have a common interest when it comes to safeguarding wages, conditions and terms.
Fellow PCS members are due to walk out at the National Museum of Wales on Saturday over a different row about weekend allowances.
Copyright Press Association 2015
https://www.gov.uk/government/organisations/driver-and-vehicle-licensing-agency (DVLA)