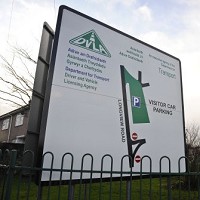 A Government agency is making millions of pounds by selling motorists' personal data to companies which enforce parking regulations, the Telegraph reports.
This practice has secured £21.7 million for the DVLA over the last 54 months and the annual amount is growing - figures gleaned from a freedom of information request show.
Charging approved firms £2.50 each time, it is estimated that 8.7 million motorists' private details have been sold on by the DVLA since 2011.
The agency is on schedule to take £7.3 million this way in 2014, after making £4.3 million from April to October.
This would represent a 21.6% increase on the 2013/14 figure when it took £6 million, and a 151.7% rise on the 2010/11 figure of £2.9 million.
Information sold includes motorists' addresses and names, alongside vehicle details which show up when drivers are buying a car .
As many as 31 firms, such as Parking Eye and Excel Parking, regularly use this data to collect and issue fines.
Drivers have criticised several of these companies for their conduct. Parking Eye, for example, which has paid the most to the DVLA with over £7 million, lost a high-profile legal fight earlier this year. It fined a motorist who was merely circumnavigating a Newquay car park in search of a space.
BBC One's consumer affairs show, Watchdog, has accused Excel Parking of behaving unfairly by ignoring a legal judgement on its signs.
The DVLA said that it makes no profit from data sales and that applicants not taxpayers fund this process, because the charges are made to recover associated administrative costs.
Copyright Press Association 2014