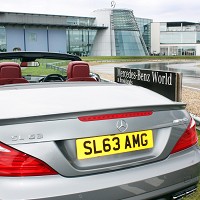 A prestigious car registration is set to be released for auction next month - a full year before it can actually be used on the road.
The DVLA will be auctioning SL63 AMG at Mercedes-Benz World in Surrey this September, in honour of the 60th anniversary of the Mercedes SL, and in particular the sought-after fourth-generation model, theSL 63 AMG .
The 63-series of registrations will identify vehicles first registered from September 1, 2013, but the keenest bidder can snap up SL63 AMG during the three-day sale, which starts on September 6 this year.
Many of the other registrations on offer are also geared towards Mercedes-Benz owners, but there are also key name-related registrations including BE11 NDA, CA12 TER, JE12 OME and PA12 KES.
Registered bidders will receive free admission to the Mercedes museum as well as access to "hot lap" rides around the circuit.
"Mercedes-Benz World will be a perfect backdrop for our next sale," said DVLA Personalised Registrations' Marketing Manager Damian Lawson.
"Auctioning a registration so far in advance of its on-the-road date has never been done before, but as it is the sixtieth anniversary year of the SL we wanted to celebrate by offering the registration for sale now rather than have it sitting in our vault."
Copyright © Press Association 2012