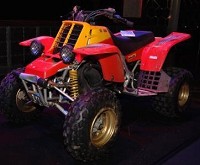 A man who stole a quad bike from a Durham farm has been brought to justice because of the quick thinking of a group of highly-trained Dutch special forces.
Nick Walker, 26, a worker at the farm, heard the bike being revved up and gave chase on a similar vehicle. After clipping a kerb and flipping the bike at 50mph, the thief made off on foot - only to run straight into a group of paratroopers on their way to Northumberland for a training exercise.
The soldiers grabbed the suspect, pinned him to the floor and knelt on his back until police arrived and arrested the man.
Acting Inspector Peter Dawson thanked the soldiers for their help in detaining the suspect.
"He would not have expected to run into a group of special forces soldiers. It just wasn't his day and goes to show the bad guys do not always get away with it," he said.
A 25-year-old was charged with theft and driving without a licence or insurance and will appear before magistrates next week.
Copyright © Press Association 2009