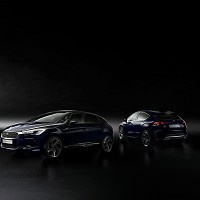 A newly-independent offshoot of Citroen is constructing an exclusive stable of models to commemorate 60 years of the French manufacturer's DS.
DS's 1955 Edition update also marks the company's emergence in its own right - after breaking away from parent firm.
In honour of the special 60th anniversary, DS plans to make only 1,955 DS 3 Cabrios and DS 3s.
In addition, a further 955 DS 5s and 955 DS 4s will roll off the production line before being dispersed across showrooms throughout the world.
Experts say this will make their rarity value pretty high on British roads.
Amounts will be allocated to British dealerships depending on demand, and will almost certainly be seen on UK highways before the end of next month.
The RAC has given the standard DS 3 Cabrios a sound rating, with particularly high scores for styling, build and economy.
DS claims motorists buying a car from this limited edition range will get ownership of a machine that draws inspiration from the name's "exceptional heritage".
The fab four revised makes will be displayed at Tuileries Garden in Paris - 60 years after the first model debuted at the French city's prestigious motor show.
The first of the 1955s to exit the upmarket car-making plant will be the DS 5.
DS is hopeful that latest technologies and upgraded dynamics will improve the car's allure to top-end segment buyers.
Yves Bonnefont, DS's CEO, reportedly said that the new models will perpetuate the original ones' values of "avant-garde design", "excellence" and " innovation".
Mr Bonnefont said that the 2015 incarnations were outstanding in a variety of areas. These include "performance", "comfort", "technology", "refinement", "outstanding style" and "quality materials".
DS said in a statement that the original DS in 1955 was a legend for its era as well as being a "major milestone" for 20th-century car history.
It said that 60 years later the newly-formed DS brand would carry on the "mythical" motor's "revolutionary spirit".
The company would resume the French tradition of making premium cars into the 21st century, the statement added.
Copyright Press Association 2015