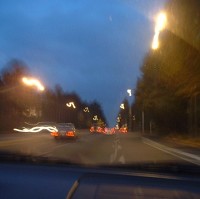 The Government has sought to reassure those on prescription medicine that they will not be unfairly penalised under new drug-driving laws currently before Parliament.
Transport Minister Stephen Hammond made the pledge as he published a 200-page Whitehall-commissioned report on drug-driving from London's King's College.
Written by a panel of influential medical and scientific experts, the report backs the creation of upper limits, beyond which getting behind the wheel is considered dangerous.
The new offence of driving or being in charge of a motor vehicle with a specified controlled drug in the body is included in the Crime and Courts Bill being debated by MPs.
Ministers will now consider the panel's recommendations, which include setting a dual limit for situations when a person has both drugs and alcohol in their system.
The panel said that the drug-drive limit for morphine should be above the dose a cancer patient might be prescribed in the long-term.
The Government should adopt the blood-testing system currently used in Norway, where blood samples are routinely collected at the scene of all road traffic accidents and analysed against a universal list of substances, the report's authors said.
These results should be held in a national database and would provide "much-needed evidence of the consequence of drug-driving," the panel claimed.
Copyright Press Association 2013