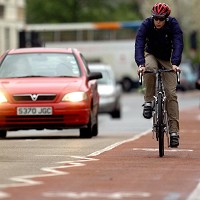 Road deaths in Scotland dropped last year as the overall number of casualties fell to its lowest-ever level, official figures have shown.
Government agency Transport Scotland reported that road deaths in 2012 fell by 6% compared to the previous year while the number of casualties on the road dropped 1% during the same period.
However, the statistics showed that the number of casualties among cyclists rose by 9% to 901, serious injuries were up 7% to 167 and the number of deaths increased by two to nine.
Keith Brown, Scotland's transport minister, insisted that the Scottish Government would improve cycling infrastructure, training and road safety in a bid to tackle the rise among figures for cyclists.
Mr Brown pointed out that ministers had already invested more than £58 million in cycling infrastructure, training and road safety messages, but said that he would continue to work to boost road safety in Scotland.
Copyright Press Association 2013