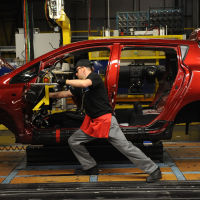 New figures might look like they paint a bleak picture for the UK's commercial vehicle manufacturing industry, but they're not as bad as they seem, claims The Society of Motor Manufacturers & Traders (SMMT).
In March 2016, UK commercial vehicle manufacturing saw a drop, according to the new figures.
Market rebalancing
The numbers dropped by a massive 13% compared with the previous year's output.
Just 8,398 CVs were built in Britain in March.
But SMMT says the figures aren't as bad as they look on first glance, as it is just the market rebalancing following a particularly strong performance in March 2015.
Overseas demand drives growth
First quarter production volumes remained stable, rising 0.9% on 2015 and marking the strongest quarter in more than four years.
This growth was driven by overseas demand, which had risen by almost a fifth compared with the same period last year, with 12,450 vehicles exported.
Mike Hawes, SMMT Chief Executive, said, "Following the substantial boost to volumes seen in 2015, it is unsurprising that March's production figures were more subdued.
"However, exports are driving output, with more than half of all the commercial vehicles made in Britain in 2016 produced for overseas buyers. With continued recovery in Europe, we can be optimistic that this trend will continue."