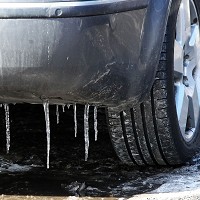 Despite a so-far mild winter, drivers should not become complacent about the challenges that cold and icy weather can bring.
Peter Rodger, the chief examiner at road safety charity IAM, says: "Some bits of the country have already had a first taste of this year's winter. That means it's time for the rest of us to start thinking about how to deal with it too."
And in agreement, RAC spokesman Simon Williams said: "This winter has so far been all about rain and floods so motorists need to be ready to change gear for ice and frost otherwise they could be in for a nasty cold surprise. The invisible menace of ice makes it one of the worst winter motoring hazards and one which will unfortunately catch some motorists out."
"Our patrols are fully prepared and on standby to deal with the consequences of ice and low temperatures. And, if the conditions really do prove to be severe we will look to deploy our SOS 4x4 Team to the worst hit areas."
Among the advice for tackling icy conditions include, firstly, keeping to the main roads where salt is more likely to have been laid. He also urges motorists to be aware of icy patches of road in shaded areas, even when the frost appears to have thawed, and to take extra care in evenings as the temperature gradually drops.
Furthermore, he stresses the clear importance for drivers to ensure they have de-icer and a scraper stowed in their vehicle, and to ensure that the whole windscreen is clear before setting off.
In some practical advice on how to manoeuvre a vehicle if it loses grip in slippery conditions, Rodger says take your foot off the accelerator and point the front wheels where you want to go; meanwhile when starting the engine, do so in second gear, releasing the clutch and accelerating gently to avoid wheel spin.
Drivers are also reminded that stopping distances increase up to 10 times in icy conditions, and it would be wise to leave extra space, using the gears to slow down and stop, rather than relying on the brakes which can be ineffective on icy roads.
Rodger said: "These are just a few pointers to start you thinking. Being mentally prepared as well as having the right equipment is vital, so think about any problems you encountered last winter, and what you need to do to avoid them or overcome them if they recur this year.
"Be prepared for the worst - icy conditions will affect accelerating, steering and braking."
Copyright Press Association 2014