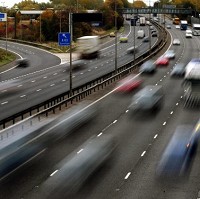 The Institute of Advanced Motorists has offered advice to people holidaying in Britain this summer, with chief examiner Peter Rodger encouraging motorists to share the driving.
Mr Rodger has advised domestic holidaymakers to stop at least every two hours when out on the road, ensuring they eat wisely and take on enough fluid, as dehydration hampers concentration.
Drivers have been urged to plan when they are going to refuel to avoid running out. Budget-conscious people should do some research and find a cheaper filling station away from the motorway.
Rodger said a good night's sleep is important before a long trip. Any motorists who do feel tired during the journey should find somewhere safe to stop. The hard shoulder of a motorway is simply for cars that break down, not a place to rest.
He has advised parents to ensure their children have enough food, drink and entertainment. The car should be packed so it is comfortable for all passengers and kids can look out of the window.
Rodger said: "Getting away on holiday is great fun, but it can also be hugely stressful, especially if you have the whole family with you. Make sure you prepare yourself, your car and your route beforehand, for a trip that'll has everyone smiling from start to finish. Enjoy your holiday."
Copyright Press Association 2013