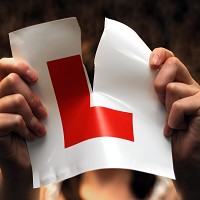 A woman who failed her driving test 23 times finally passed on the 24th attempt, according to newly released data.
The 24-year-old from Chippenham finally passed her test last year, and will likely have been on the lookout for a cheap car insurance quote after ripping up those L plates.
She was among eight learner drivers to have failed at least 20 tests by the end of last year, data acquired by the Press Association from the Driving and Vehicle Standards Agency (DVSA) shows.
The figures show that 10 student motorists accrued 200 failed tests between them before eventually getting their full licence. Four of these drivers were men and six were women.
The two youngest were 24-year-old females while the oldest was a 47-year-old man.
The large number of failed tests show that the driving exam is working because people who are not ready to be unsupervised on the roads are being prevented from obtaining a full licence, says Kevin Clinton, head of road safety at the Royal Society for the Prevention of Accidents.
He adds that a lack of preparation could be to blame for such high numbers of repeated failures and recommends that learners who are consistently failing their driving test should talk the reasons through with an instructor.
He also says that taking a break, as opposed to getting another test booked in right away, may be worth considering for those who are regularly failing.
Copyright © Press Association 2014
Copyright Press Association 2014