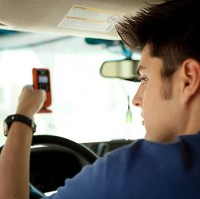 Texting behind the wheel is unsafe regardless of where the phone is positioned, according to new research.
High school students from Oklahoma joined forces with the local university to create Generation tXt, a group which explored how the position of a mobile phone affects driving safety.
Thirty students aged between 15 and 19 participated in the study, which aimed to address whether young motorists can text and drive safely.
Due to the ages of the teenagers, simulators were used to record unintentional lane shifts, speeding, crashes, and other driving violations while driving.
Three driving conditions were assessed - driving without a mobile, driving while texting with the mobile hidden so people had to look down, and driving while texting from a position of choice.
The study found the teens committed 45 driving violations, irrespective of where the mobile phone was positioned, while nearly 50% drifted out of a motorway lane while texting.
Copyright Press Association 2012