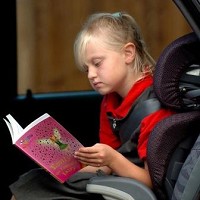 Safety experts are warning parents who drive to throw away their booster seats, as they pose a health hazard for young children.
Britax wants parents to install highback booster alternatives instead, with the school summer holidays already well underway.
The manufacturer's call comes after its tests found how dangerous boosters really are. Britax's Bin the Booster campaign also wants parents with children aged between four and 12 to tell others about the risks involved.
The company has posted a crash test film to emphasise its point.
The short clip demonstrates how different the outcomes are when a parent uses a high-back child seat compared to a basic booster one during an accident.
The video comes only a couple of months after Good Egg Safety vehicle safety group found that 67% of child seats are incorrectly fitted .
The new film shows the booster cushion dummy escaping the three-point seatbelt's piper section and smashing its skull on the car door. Conversely, the other highback seat dummy maintains a more upright position, held in place by seat side props as well as the higher belt guide.
Mark Bennett, safety expert for Britax, believes that parents may think twice after viewing the company's "incredibly haunting" video. He says it really shows how key seat-belt guides, head supports and big safeguarding side wings can be.
Mr Bennett urges every parent currently with booster cushions fitted in their car to swap them for highback booster alternatives instead.
Parents can also tell their friends about how little protection such cushions afford, he said.
Copyright Press Association 2015
https://www.youtube.com/watch?v=N8hlFdEH0Cc (crash test film)