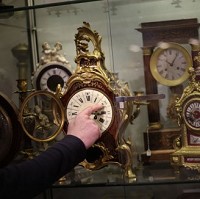 Motorists are being put at "unnecessary risk" by the manner in which Britain adjusts its clocks, a road safety group has warned.
Brake's call came as the country's timepieces went forward at the weekend.
The charity said such a system deprives the UK of potential daylight, possibly leading to more drivers having accidents after dark.
It is urging the major political groups to back putting Britain's clocks forward by 60 minutes all year round.
Cyclists and pedestrians would be particularly safer thanks to longer daylight hours, Brake said.
Studies calculate that 80 deaths as well as hundreds of bad injuries could be avoided each year on Britain's roads just by making slight adjustments to the current system.
Brake's deputy chief executive, Julie Townsend, said adjusting clocks forward by just 60 minutes throughout the year would be easy to implement.
Yet the benefits would be widespread, such as reducing road casualties, she said.
Copyright Press Association 2015